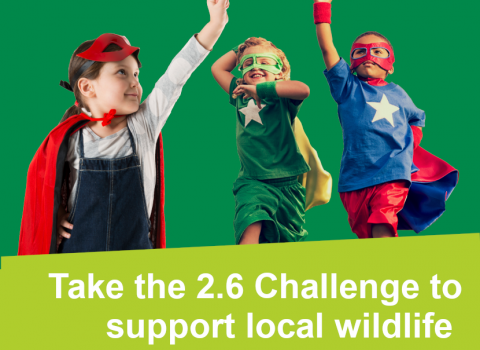 Be a stay-at-home wildlife champion!
The coronavirus pandemic has had catastrophic effects on charities with a huge loss in income, not least the cancellation of events. The London Marathon alone is the world's biggest one-day annual fundraising event. To mark the day that it should have taken place, the 2.6 Challenge will launch on Sunday the 26th of April to allow people to raise valuable funds. Join us, and the rest of the nation, from the 26th April to take on the 2.6 challenge and protect wildlife! 
Whatever you can do, you can be a part of it!  All you need to do is take part in an activity of your choice based around the numbers 2.6, 26 , or even 260 and fundraise or donate to support our work. Anyone can get involved, no matter your age or ability. Any activity involving the numbers 2 and 6 counts, so whether you run 2.6 miles, host an online quiz for 26 friends or even hop like a frog 26 times - now is your chance to be as crazy and creative as you like! Please do remember whatever you choose to do, you must follow government guidelines on exercise and social distancing.
Take on the Challenge
Support the Trust team
We love a challenge here at the Trust so we've put together a team of brave individuals who will be taking on all sorts of challenges starting on the 26th April. Meet the team in our film below!
If you'd rather not do a challenge yourself, but still want to support us, you can donate to the Trust team below. 
How do I get involved? 
 Whether you're running around the balcony for 2.6 miles, doing 26 press-ups with the dog on your back or bench-pressing 26 kilos with your grandchildren, it's easy to get involved! 
There are 5 simple steps to take:
1. Choose your challenge! If you need some inspiration you can find more ideas here. 
2. Set up your fundraising page or donate on Just Giving.
3. Ask your family and friends to sponsor you and challenge them to their own 2.6 challenge.
4. Complete your challenge!
5. . Share a photo or video of your challenge on social media using the hashtags #TwoPointSixChallenge @HMWTbadger @hertswildlifetrust