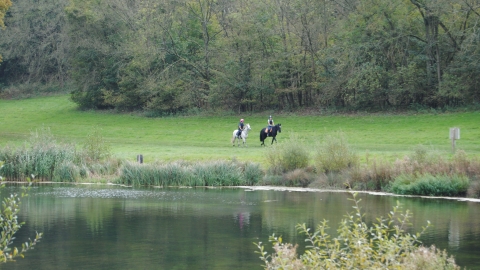 Horse Park and Ride at Panshanger Park
Location:
Panshanger Park,
B1000,
Hertford ,
SG14 2NA
Bring your horse for a ride around Panshanger Park...
About the event
Park up and follow an approximately 6 mile off road route, around Panshanger Park Estate, using permissive bridleways and paths that are not normally open to horse riders. This ride will allow you to enjoy the beautiful historic park landscape, woodlands and water features along the Mimram valley.
Children are very welcome and a shorter ride route is available, if required. However, we ask that riders under the age of 12 are led by a parent/carer and riders aged 12-16 must have a parent/carer present at the start point and throughout the duration of the ride.
Booking
Price/donation
Cost: £10 per horse and rider

Income from this event will go towards the Panshanger Park Education Fund, which is a joint initiative between Tarmac and HMWT to fund and promote educational activities in Panshanger Park.
Additional booking information
Please read through the attached Terms and Conditions before making a booking.
Suitable for
Children, Adults
Contact us
Dawn Grocock, Countryside Access Officer, Public Rights of Way Service

Panshanger Park is owned and managed by Tarmac who are working in partnership with Herts and Middlesex Wildlife Trust (HMWT) to open up the historic landscape to the public. The partnership is working in consultation with a range of stakeholders to highlight and protect the many wonderful attributes of the park - from the varied wildlife to the rich history of the grounds and the stunning landscape.

Hertfordshire County Council Public Rights of Way Service