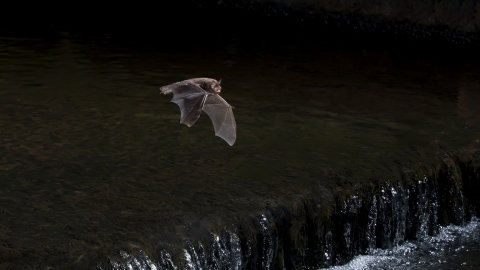 Bats of Stocker's Lake
Location:
Rickmansworth Aquadrome,
Rickmansworth,
Hertfordshire ,
WD3 1NB
Book
Discover the bats found at this beautiful nature reserve at Rickmansworth Aquadrome...
About the event
Join a bat expert on a summer night at Stocker's to discover bats and learn how to survey for them using a heterodyne bat detector. We hope to see at least at least five species including Daubenton's bat, along with both common and soprano pipistrelles.
Booking
Suggested donation
This event is free to attend. However, as a registered charity, any donations are greatly appreciated. We suggest a donation of £3 per person for members and £5 for non-members to cover our administration costs.
Suitable for
Families, Adults, Beginners
Affinity Water
Stocker's Lake, Springwell Reedbed and Hilfield Park Reservoir are owned by Affinity Water and managed by HMWT. Affinity Water are working in partnership with the Trust to conserve and enhance their sites for wildlife and so that they are valued, used and enjoyed by their respective local communities.