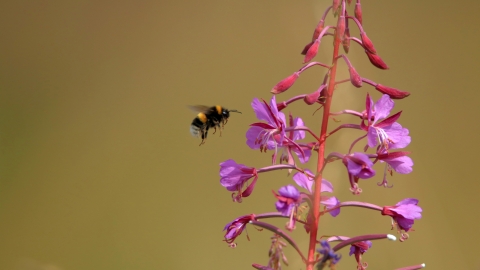 Wild Bee Walk
Location:
Off Northfield Road
,
Tring,
Hertfordshire ,
HP23 5QW
Book
Learn about solitary bees and other pollinators...
About the event
Join bee enthusiasts Joshua Wells and Stephen Howard, for a walk in search of bees and other pollinators at Aldbury Nowers Nature Reserve.
Situated on the Chiltern escarpment, Aldbury Nowers' warm south-facing slopes host the small but beautiful flowers of chalk grassland which support a wide variety of invertibrates.
We will take a walk to our chalk scrapes to spot beautiful solitary bees and bumblebees and find out about their fascinating life cycles.
Booking
Suggested donation
This event is free to attend. However, as a registered charity, any donations are greatly appreciated. We suggest a donation of £3 per person for members and £5 for non-members to cover our administration costs.
Suitable for
Adults, Experts, Beginners