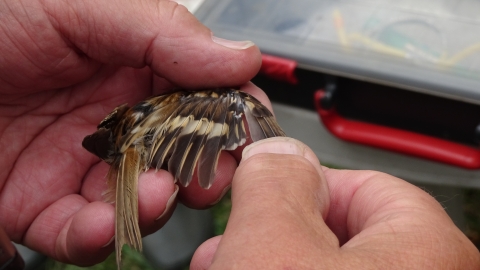 Close Encounters of the Bird Kind!
Location:
On the A41 towards Barnet,
Between Bushey and Elstree,
Hertfordshire ,
WD25 8DA
Book
Discover the birds that call Hilfield home...(please note the change of date from the published events brochure)
About the event
Join us for a chance to explore the undisturbed Hilfield Park Reservoir and a rare opportunity to see some of its bird species up close in a ringing session. 
Participants will get the chance to observe birds up close, while learning how to tell who's who in the bird world  by sight and sound.
Suitable for beginners. 
Booking
Suggested donation
This event is free to attend. However, as a registered charity, any donations are greatly appreciated. We suggest a donation of £3 per person for members and £5 for non-members to cover our administration costs.
Suitable for
Families, Adults
Affinity Water
Stocker's Lake, Springwell Reedbed and Hilfield Park Reservoir are owned by Affinity Water and managed by the Trust. Affinity Water are working in partnership with the Trust to conserve and enhance their sites for wildlife and so that they are valued, used and enjoyed by their respective local communities.