The Weather Lottery
Join Herts and Middlesex Wildlife Trust's Weather Lottery for the chance to win £25,000!
By playing our Weather Lottery today you can help protect your local wildlife and wild places across Herts and Middlesex. 
How the Weather Lottery works
Play today for as little as £1 per week and you'll be sent a unique 6 digit Lucky Number that will be entered into the Weather Lottery's weekly draw for a chance to win the £25,000 jackpot.  
For each entry that you buy, you'll be given a separate Lucky Number. 
The Weather Lottery result is based on the last digit of the Fahrenheit temperature from 6 popular European destinations, as published in the Daily Mail every Monday.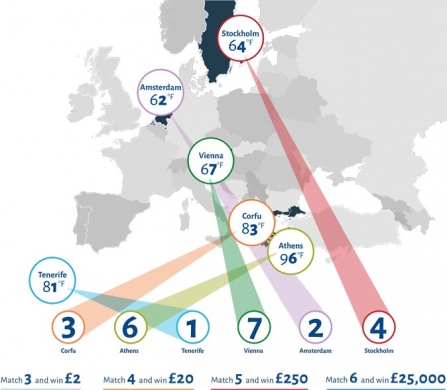 Prizes
To win a prize you must match at least 3 numbers in the right order.
Match six numbers and win £25,000
Match five numbers and win £250
Match four numbers and win £20
Match three numbers and win £2
If you are a winner, prize cheques are automatically popped in the post directly to you. There's no need to claim your prize.