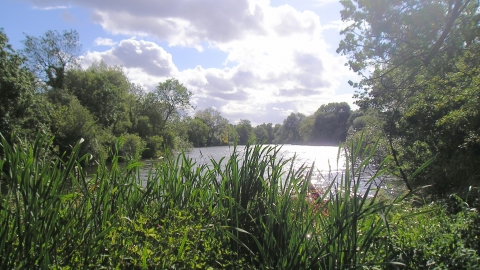 A peaceful refuge for both wildlife and people, where great crested grebes breed.

Know before you go
Walking trails
Some pathways and viewing areas over the lakes suitable for wheelchairs. Wellingtons are recommended.
Access
Public footpaths around the reserve are accessible at all times. Some paths are suitable for wheelchair users. In dry weather wheelchair access is available from the car park to a viewing point over the main lake.
When to visit
Opening times
Open at all times
Best time to visit
April to July
About the reserve
Please read our position statement regarding Broad Colney Lakes here.
 The three lakes at this reserve are quite different from one another: one is fed by the River Colne, one is relatively still and deep and the smallest has partially developed into marshy woodland. A variety of land and water birds can be found here. Great crested grebes can be seen on the lake, along with tufted ducks, whilst in the alder trees flocks of siskins feed, along with mixed flocks of finches and tits. Otters travelling up and down the River Colne pass through the reserve.   
Contact us
Herts & Middlesex Wildlife Trust