Human-accelerated climate change is one of the most profound environmental crises that we have ever faced. Globally we are already seeing the impacts of our changing climate from rising sea levels, extreme weather and diminishing Arctic sea ice.  
Here in Hertfordshire and Middlesex we are experiencing climate change broadly in line with UK-wide climatic trends. This includes more unpredictable and extreme weather patterns. However, we are also experiencing climate change issues more specific to the south east. Our already-stressed rivers and wetlands are drying out as we experience hotter and drier summers accompanied by limited winter rainfall, which is directly impacting the wildlife that depend on those habitats. And this is in addition to the already major declines that wildlife has experienced over recent decades.
It is clear that unless urgent action is taken now, wildlife in our county, our continent and our planet will face even greater risks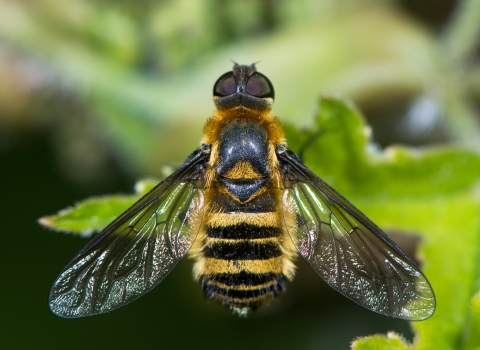 Flies on the move
The downland villa bee-fly is one of several species acting as a barometer for our warming climate. Once isolated to the warmest stretches of south-facing bare soil, this bee-fly can now be found in much longer grasses where the temperature is cooler – a clear sign that the overall temperature is increasing.
A different kind of climate change
Over the last 3 million years (roughly the average lifetime of our wildlife species) there have been 20 ice ages interspersed by warmer periods. During this time our wildlife has moved back and forth between Britain and the Mediterranean in response to these climatic changes. This time however there are some important differences.
The temperature is increasing from an already warm period; Britain is now an island and our landscape is full of barriers to wildlife movement such as roads, railways, cities and towns; intensive land uses such as farming render most of the countryside hostile to wildlife, and habitats survive mainly as small, isolated fragments. This time around it is also happening much faster – the rate of climatic change is unprecedented. Our wildlife is therefore unable to move and adapt quickly enough.
A living, breathing landscape
Our vision of a Living Landscape where habitat networks are well connected is vital to build resilience into our wild spaces and provide our wildlife with corridors to move and adapt to a changing climate.  We need to see more land managed positively for the benefit of wildlife and a better connected landscape.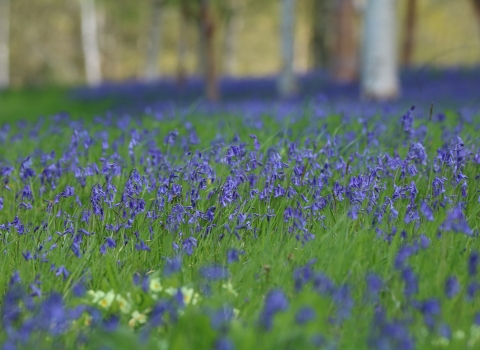 Goodbye bluebells?
As the temperatures rise, woodland trees are coming in to leaf earlier. Spring woodland flowers such as bluebells rely on the small window of time before these trees come into leaf to grow. As this period gets shorter, these flowers will struggle to survive if they cannot adapt as quickly and we could see the loss of our iconic bluebell woodlands.
Mitigating our impact
We know that our work at the Trust isn't without its own climate impact. We are committed to finding ways to reduce our carbon output through efficient use of our vehicles and tools and through a changing office less dependent on energy consumption. All our actions, no matter how small, can make a difference. 
Caring for wildlife in a changing climate
Climate change is a reality and one that we must factor in to our future management plans. Our conservation teams are working on fully understanding and mitigating the changes occurring to habitats on nature reserves and in the wider countryside. These are often complex issues and different solutions may be needed in different places. One of the biggest and most obvious threats in our area are to rivers and wetlands. We are currently seeing miles of our precious chalk rivers drying up completely; as are ponds and other important wetland features. We need to take action to address the source of these changes where we can and to adapt our land management to mitigate the impacts. For our rivers the most important thing that can happen is to reduce water abstraction, through reducing consumer demand and planning long-term alternative water sources.  
Our wildlife, our future
As a movement, The Wildlife Trusts stand united with all those who share our belief that nature is valuable in its own right as well as being essential to our existence. We believe that:
We must come together to restore our habitats on a landscape scale and bring our seas back to life if wildlife is to thrive again. It is time to stop the damage and turn the situation around.
It's time to accelerate action on the climate crisis including through restoring our natural world, not least our damaged peatlands that currently release the same carbon as three cities.
It is not acceptable to continue showing a lack of respect for our natural world, building massive motorways for carbon-hungry cars, destructive High Speed lines or bigger airports across ancient woods and other vital wildlife habitats.
It's time for new laws that will truly give nature and people a safe and healthy future.