We have some of the rarest ecosystems in the world in Hertfordshire and they are under threat.
Chalk streams are incredibly important, due to their global rarity, unique ecology and threatened status. There are no more than 200 in the world. They face a number of threats: low flows due to drought and abstraction (where water is pumped from the ground to supply the local population), pollution from urban and agricultural sources, invasive species and past physical modifications, such as weirs and dredging.
What the Trust is doing
We are coordinating various practical restoration projects including lowering weirs, removing scrub and trees that make rivers too shady, and installing various in-channel features to improve river habitats. We're also helping to coordinate the mapping and removal of invasive plant species such as Himalayan balsam.
Our project is raising awareness of the threats that face our chalk rivers - in particular, the link between high water usage and the problems of low flow in our rivers. 
In 2013 the Chalk Streams Charter was launched from the River Beane near Stevenage, a national campaign to highlight the plight of these rare habitats.
We are working closely with farmers, local communities, river groups, the private sector, statutory bodies and volunteers. Managing a river catchment is a huge task, and no individual or group can succeed on their own. Collaboration is key to raising awareness of the issues and tackling large-scale problems such as poor water quality.
Read more about the development of Catchment Management Plans on the River Lea Catchment Partnership website: riverleacatchment.org.uk
Living Rivers Newsletters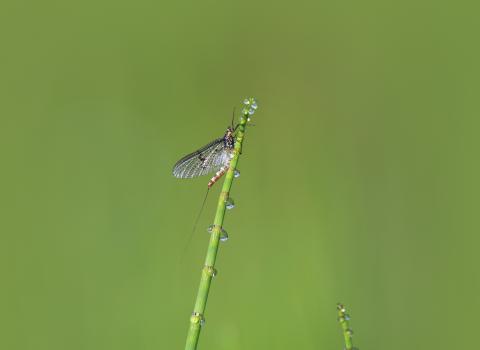 Riverfly Training Hub
Herts & Middlesex Wildlife Trust are working with the Chilterns Chalk Streams Project to run the Chilterns, Herts & Middlesex Riverfly Training Hub. This hub coordinates Riverfly Monitoring across the Colne and Lea catchments and provides training for volunteers.
Serious pollution incidents can occur in our watercourses at any time, spelling disaster for the river's ecology. Regular monitoring is the best way of identifying such incidents early and enabling a rapid response. 
The Angler's Riverfly Monitoring Initiative (ARMI) is a national scheme, launched by the Riverfly Partnership in 2007 to enable anglers and other interested groups to actively monitor and protect their local rivers. It helps rivers to be monitored more widely and at greater frequency than is possible by the Environment Agency alone. 
The ARMI monitoring technique involves pairs of volunteers taking 3-minute kick samples from the river bed each month, and recording the presence and abundance of eight pollution-sensitive invertebrate groups. The focus of the sampling is on 'riverflies' - mayflies, stoneflies and caddisflies.
If invertebrate numbers drop below expected levels the Environment Agency are informed and will take action to investigate the suspected pollution incident. The Riverfly data held by each river group will also allow for long-term changes to be identified, and the regular presence of volunteers on the river will discourage potential polluters.
ARMI is already used widely in the UK as a 'neighbourhood watch' for rivers, practiced by anglers, environmentalists and community groups. It has proven effective in identifying pollution incidents and ensuring action is taken. In several cases this has led to prosecution of polluters by the statutory authorities and has prevented similar future incidents. RMI will be recognised on all Water Framework Directive River Basin Management Plans in England and Wales. 
The Chilterns, Herts & Middlesex Riverfly Hub
In 2014 Herts & Middlesex Wildlife Trust teamed up with the Chilterns Chalk Stream Project to set up a Riverfly Hub for the Chilterns, Herts & Middlesex. This hub coordinates Riverfly Monitoring in Hertfordshire and provides training for volunteers. Five local people, trained as ARMI instructors, deliver several workshops every year to train local people in the ARMI method.
The Chilterns, Herts & Middlesex Riverfly Hub is being supported by grants from Affinity Water , the Colne Valley Anglers Consultative, and Natural England via the Lea Catchment Nature Improvement Area.  The hub's coordinators are HMWT's Living Rivers Officer, who covers Herts & Middlesex, and Allen Beechey of the Chilterns Chalk Stream Project, covering the Chilterns.
For more information, or to register your interest in becoming a Riverfly monitor in Herts or Middlesex, please contact us. 
More about water