Hertfordshire is home to one of the rarest environments in the world – but it is under serious threat!
Chalk streams are the UK's equivalent to tropical rainforests. They support a huge variety of rare and vulnerable wildlife. Some of our most iconic and well-loved species like the Water Vole, Wild Brown Trout and Mayflies, depend solely on these rivers to survive in Hertfordshire.
Across the entire world, there are less than 200 chalk streams. Almost all of these are found in the UK and we have about 10% in our County. This makes them a globally rare and internationally important habitat.
Yet despite this, none of our chalk rivers has any formal protection and they face a number of issues.
The biggest threat is low flows and drought due to abstraction. To supply our homes, gardens and workplaces with water, it is pumped out of an underground natural reservoir (known as the aquifer) by water companies. Other smaller-scale users like farms, fisheries and golf courses, might also pump water out of the aquifer for their businesses.
The springs that feed water into our rivers depend on the same aquifer. When too much is taken out to supply our public needs, our rivers suffer and start to dry out.
60% of our tap water comes from the aquifer that feeds our chalk streams. The other 40% is pumped directly out of them. This means every drop we use at home or at work, is one drop less in our rivers.
Low flows can make the other problems our chalk streams face worse, like:
Urban and rural pollution – like household drains, roads and fertilisers
Invasive species - that take over our native wildlife
Modifications – like weirs and boating locks
Mismanagement – like dredging and overshading
What the Trust is doing
Our Living Rivers work is all about protecting and improving Hertfordshire's chalk streams on a landscape scale.
Rivers are the backbone of our County. They connect up a variety of places for wildlife and people and they are a vital living part of the landscape themselves.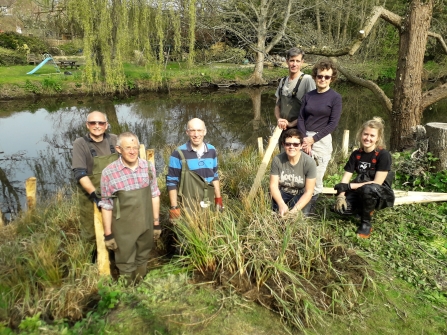 We aim to restore our chalk streams back to good health and connect them to a natural floodplain of wetlands, ponds, ditches and wet meadows so our freshwater wildlife can thrive.
To do this, we work closely with farmers, river groups, the private sector, statutory bodies, local communities and volunteers across Hertfordshire.
Managing a river catchment is a huge task, and no individual or group can succeed on their own. Collaboration is key to raising awareness of the issues and tackling large-scale problems such as low flows.
Living Rivers work covers five main things:
Practical Restoration – we deliver projects to tackle issues and improve river habitats including: removing or lowering weirs; restoring natural river features like meanders, gravels, and vegetation; stabilising banks to reduce erosion; reducing trees and scrub that make rivers too shady; creating river wildlife habitat.
Landowner advice – we provide ecological advice to landowners and support restoration activities.
Invasive Species – we coordinate surveys, mapping and removal of invasive plants like Himalayan Balsam.
Raising Awareness – we deliver an outreach programme of events, talks and work with schools, as well as increasing public awareness of chalk streams through the media.
Hosting "Catchment Partnerships" – we bring people together as part of local river groups and facilitate a joined up approach to chalk stream conservation.
Read more about the work of the River Lea Catchment Partnerships and find out about projects near you on: riverleacatchment.org.uk
In 2013, the Chalk Streams Charter was launched from the River Beane near Stevenage. This was a national campaign of The Wildlife Trust and other conservation organisations, to raise the plight of these rare habitats.
Living Rivers Newsletters
Riverfly Monitoring
Our rivers can be seriously harmed by pollution. Small and large scale incidents can happen at any time, spelling disaster for river wildlife. Regular monitoring is the best way of identifying these early-on and enabling a rapid response.
The Angler's Riverfly Monitoring Initiative (ARMI) is a national scheme, launched by the Riverfly Partnership in 2007. It is used as a "neighbourhood watch" for rivers across the UK. It helps rivers to be monitored more widely, and more often than is possible by the Environment Agency alone.
Local people and groups are trained on how to monitor their river and report pollution incidents, so they can be better protected. It involves sampling the river each month, counting eight pollution-sensitive invertebrate groups, and reporting a pollution incident if they fail to meet an agreed limit.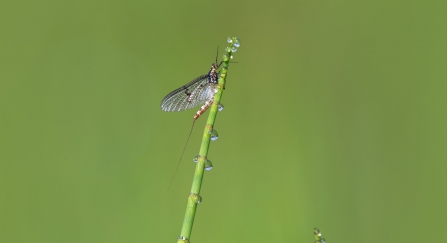 The Chilterns, Herts & Middlesex Riverfly Hub
In 2014, Herts and Middlesex Wildlife Trust teamed up with the Chilterns Chalk Stream Project to set up a Riverfly Hub for the Chilterns, Hertfordshire and Middlesex.
This hub coordinates Riverfly Monitoring in Hertfordshire and provides training for volunteers. Five instructors deliver several workshops every year to train local people who want to volunteer as Riverfly Monitors.
If you would like to register your interest in becoming a Riverfly Monitor, please contact the Hub Coordinators for more information.
The Trust's Living Rivers Officer covers riverfly in Hertfordshire and Middlesex.
The Chiltern's Chalk Stream Project covers riverfly in the Chilterns.
The Riverfly Hub is supported by grants from Affinity Water, the Colne Valley Anglers Consultative, and Natural England via the Lea Catchment Nature Improvement Area. 
More about water