Working in the wider countryside
The Trust works with land managers, farmers and organisations across Hertfordshire and Middlesex to help them improve their habitats for wildlife. 
Farmers - We're working with a number of farmers across Hertfordshire who have built their businesses with wildlife in mind. It makes sense for wildlife and for business too. Read more about our work with local farmers is our Living Landscapes section

Local authorities - We provide advice to local authorities on how to incorporate measures for wildlife. The Trust produced a Biodiversity Action Plan for Stevenage Borough Council and we are currently working with Harpenden Town Council on a management plan for Harpenden Common.

Other partners - Through our conservation projects and consultancy work we advise a wide range of organisations including schools, local action groups, businesses and other conservation organisations, providing expert habitat management advice and in some cases coordinating hands-on practical support.
Local Wildlife Sites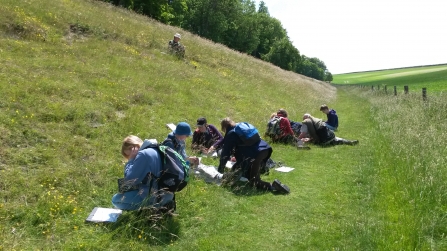 14 Local Wildlife Sites volunteers
1,812 Local Wildlife Sites
There are over 1,800 Local Wildlife Sites in Hertfordshire most of which are in private ownership. They do not have legal protection like Sites of Special Scientific Interest or Nature Reserves but they complement these protected sites and provide vital linkages between habitats. We advise Local Wildlife Site owners on how best to manage their land for wildlife and we carry out surveys to monitor biodiversity. Currently only about 30% of Local Wildlife Sites in the county are managed positively for wildlife (in Positive Conservation Management, or PCM). We want to see this percentage increase.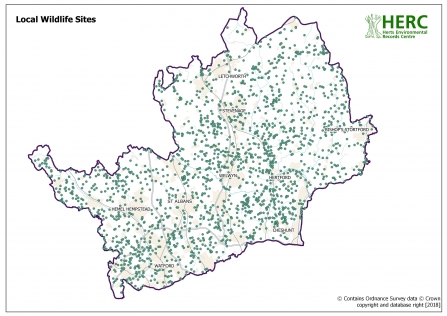 Our Local Wildlife Sites team conduct botanical surveys and write reports advising and supporting landowners on how to improve their sites for wildlife. They also monitor the sites to assess and address any changes that may have occurred and ensure that the sites are recognised in the planning process.
Get involved:
Local Wildlife Sites newsletter
Monitoring Wildlife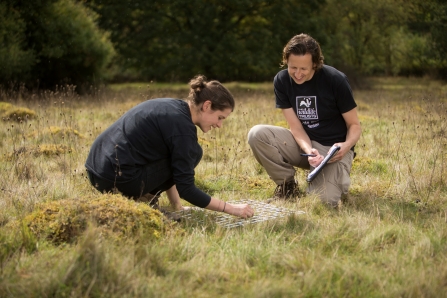 Monitoring is vital for the protection of our local wildlife. It allows us to see over time how well our habitats and species are doing. Data collected through surveys of species and habitats can help us to manage our nature reserves effectively, advise others and plan for the future. 
Surveying is essentially recording what wildlife is found on a site, be that a habitat or a species. Doing surveys regularly allows us to look at changes in those species or habitats over time, as part of a structured monitoring programme. This can help us to find out if there has been a change in populations and determine whether this is due to the effects of management or natural variation. Surveys of groups of species including birds, butterflies, protected species and plants are important for establishing whether or not habitats are in a good condition.
Where to send your sightings
Hertfordshire Natural History Society has a network of volunteer recorders, who are experts on specific groups of species and collate and co-ordinate records. They are also willing to assist with identification of the more unusual species. Visit the Herts Natural History Society website to submit your sightings.