Colne Valley - a landscape on the edge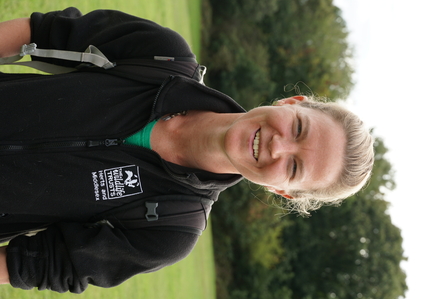 Colne Valley - A landscape on the edge comprises two projects, both of which are managed by Lydia Murphy, the Trust's Colne Valley Rivers & Wetlands Officer.
Lydia worked at an international conservation NGO and as an ecological consultant before joining the Trust. She has previously researched red squirrels and pine martens with the Game and Wildlife Conservation Trust in Scotland, and more recently has got involved in voluntary otter and water vole surveys and checking mink rafts in and around Hertfordshire, as well as Riverfly monitoring.
Preventing water voles from becoming extinct
This project aims to secure the future of the highly threatened water vole in the Colne Valley.
Nationally, water vole distribution has declined dramatically. Between 2006 and 2015, the number of places where water voles could be found across England and Wales declined by 30%. In the Colne Valley, water voles have just one stronghold - Frays Farm Meadows, west of Uxbridge.
Surveys carried out in summer 2019 as part of this project identified a number of further small populations north of Frays Farm Meadows. To find water voles in more locations than previously thought is fantastic news, but there is still a great deal of work to be done to establish healthy, resilient populations throughout the Colne Valley.
The water vole populations discovered are small and fragmented from one another and the stronghold at Frays Farm Meadows by long stretches of unsuitable bankside habitat. In their current state these populations are extremely vulnerable and could easily be lost to mink predation, disease, adverse weather or flooding. 
The task now is to join these water vole populations together by improving the habitat between them. This will be achieved through engaging with local landowners and managers who care for the Colne and its tributaries, working with them to implement practical habitat improvements for water voles. As well as habitat works, a network of mink monitoring rafts will be installed throughout the Colne Valley to protect water voles from this invasive non-native predator.
With these measures, water vole populations will increase and become more resilient – our vision is that the whole of the Colne Valley will become a stronghold for water voles.
We rely on the efforts of volunteers throughout the valley to monitor water voles and to track the movements of mink. So far a number of volunteers have been trained in water vole survey techniques and mink raft monitoring. Further training events are being planned in 2021 to help more people contribute to water vole conservation in the Colne Valley.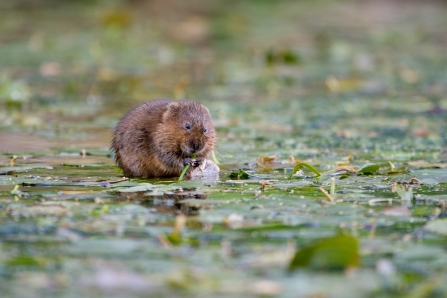 Angling and nature conservation
This project is hosted by Herts and Middlesex Wildlife Trust working in partnership with the Colne Valley Fisheries Consultative (CVFC). It will find ways to manage fisheries that protect and enhance fish stocks, restore biodiversity in the Colne Valley and enhance angling experiences. 
Through this project, there is an opportunity for angling clubs with waters in the Colne Valley Regional Park to work with the Trust and CVFC to draw up management plans for one or more of their sites. To do this, the club nominates one or more members to complete an accredited training course in fisheries and wetland management. Trained members then work with the Trust and CVFC to produce a management plan to enhance habitats onsite for fish and wildlife. The aim with the plans will be to balance objectives of managing a fishery with creating wildlife habitats, and to identify mutually beneficial actions.
Fisheries Training
As part of this project, the Trust and the Colne Valley Fisheries Consultative are offering a unique training opportunity to clubs with fisheries within the Colne Valley Regional Park. The course will be run as part of the AQA Unit Award Scheme, allowing participants to gain certification in each of the topics covered. The aim of the training sessions is to give fishery managers the range of skills needed to start the process of writing or updating a management plan for their fishery site(s).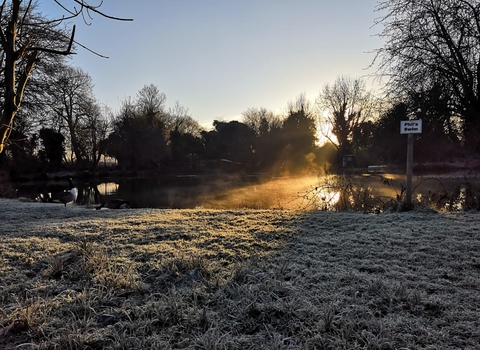 How angling and nature conservation can go hand in hand
Fisheries have the potential to be fantastic refuges for nature - our partnership project helps anglers identify the habitat needs and manage their fisheries for both wildlife and people. Read our blog to find out how we work together with anglers to protect water voles and other wildlife.
Read the blog
More information
Both projects are funded through a wider £2.5m fund made up of National Heritage Lottery Funding and local funding made available for the 'Colne Valley – a landscape of the edge' partnership that brings together wildlife organisations, local authorities, and water companies, led by community charity Groundwork South.

Please support local wildlife
Together, we can make Hertfordshire and Middlesex a little wilder.