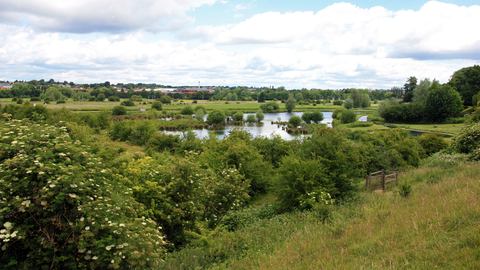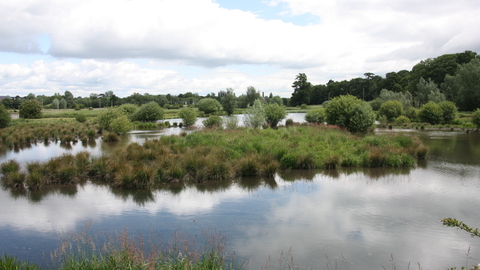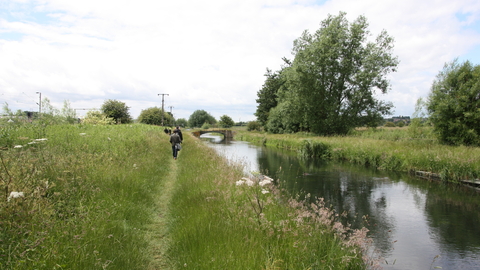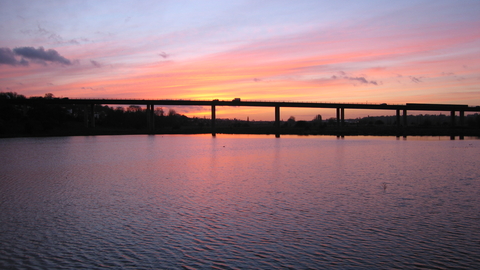 Please note that both of the pedestrian rail-crossings on the King's Meads site are now closed until further notice. This is a Network Rail decision, following a tragic accident.
One of the largest water meadows in Hertfordshire; 265 different species of wildflower and 119 bird species have been recorded here.

Know before you go
Parking information
No official parking. Parking avaliable at Ware railway station or Burgage Lane car park.
Access
Mostly flat grass paths that can get very muddy in wet weather. Steep chalk bank in the south.
When to visit
Opening times
Access at all times.
Best time to visit
All year round
Habitat
Stretching from Hertford to Ware, King's Meads is one of Hertfordshire's largest reserves for people and wildlife. Wetlands and grasslands are crossed by waterways, offering a range of habitats for plants and animals. It consists of several Meads (water meadows) with evocative names such as Sweet Mead, Lady's Mead and Mill Mead, among others. 
The reserve is famous for its dragonflies and damselflies, and over 18 species have been recorded, including the Norfolk hawker and hairy dragonfly and more familiar species such as red-eyed damselfly, Emperor dragonfly and banded demoiselle.King's Meads is a haven for many species of birds. Warblers, ducks and waders breed here in the summer, and 2020 saw the appearance of a visiting marsh warbler. Sedge and reed warblers are vocal summer residents, singing from low in the reedbed, often heard and not seen. This is to say nothing of the silent barn owls, secretive grass snakes, chirping crickets and grasshoppers, aerobatic bats, soldier flies and many other marvels of the Meads!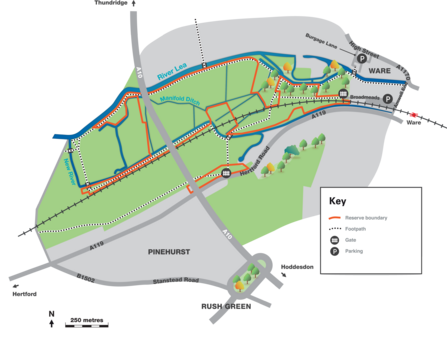 Seasonal Highlights
Spring: After a wet winter, the spring will see the emergence of amphibians. Great crested newts and smooth newts breed here. King's Meads is a great place to witness spring migration as birds stop off to fuel up after their long migrations, look out for wheatear on fence posts and listen out for chiffchaff and warblers.
Summer:  Many species of warblers can be heard singing across the Meads. Listen out for the reeling song of the grasshopper warbler. Dragonflies and damselflies really come into their own at this time of year, the ditches are a great place to look for these aerial predators. The wildflowers alongside the trails are a great place to look for invertebrates on a sunny day. Chadwell bank looks particularly spectacular at this time of year with carpets of knapweed, bird's-foot-trefoil and salad burnet. 
Autumn: Little Egrets stand out particularly well at this time of the year. Look for flocks of lapwing and waders dropping in on migration, feeding up in the pools and ditches. 
Winter: Wildfowl including shoveler, pochard, wigeon, tufted duck and gadwall can be seen at King's Meads. Pools and ditches across the meads provide winter feeding for snipe. Also look out for barn owls hunting over the grassland at dusk as the days shorten. 
Sit back, relax and pay a virtual visit to King's Meads in the video below.
If you have visited King's Meads with your camera, we'd love to see your images!
Directions
Site entrance: Via the River Lea towpath, either at Hartham Common/Hertford Lock, Hertford or an entrance by the A10 flyover. 
Access by road: Broadmeads car park is accessed from Amwell End Road near Ware railway station. Burgage Lane car park is accessed from Ware High Street A1170.
Access by public transport
Bus: 331, 383, 384, 390, 395 – Hertford Regional College (Stop D) (300m).
Rail: Ware (500m).
From Ware station and town centre down Broadmeads Road. The reserve is very easy to visit by rail, and is approximately 500m from the station.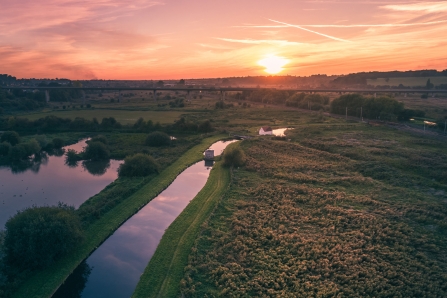 Managing the Meads
King's Meads is place of great variety and contrast and the plan drawn up by the Trust reflects and celebrates this. Large areas of the reserves are easily accessible from either the Hertford or Ware end, and are enjoyed year round by visitors. At the same time, there are extensive patches of wilder reserve which provide a hidden home to warblers, water voles and many others and are best viewed from the paths.
Chadwell Bank
Chalk grassland is a very rare habitat in Hertfordshire as well as the whole country. The thin soil covering the underlying chalk is home to a range of specialist plants and communities of invertebrates.
Fencing
It might seem strange, but in order to keep meadows and grasslands healthy, they have to be eaten. Plants in these environments have evolved to be grazed by sheep and cattle. We work with local graziers and in order to make sure the cows are on the right fields at the right time, we are installing new fencing around the site.
Trails
Exciting new trails are being designed which will guide visitors to areas of particular interest. 
Species surveys and volunteer work
Staff and volunteers from Herts and Middlesex Wildlife Trust are working year round to identify the wildlife that can be found here and to maintain and improve their habitats. If you would like to get  involved please visit our volunteering page.
Support our nature reserves
It costs on average £30 per month to care for each acre of our nature reserves.