Wild At Home
Our Wild At Home project is the place for children aged 5-10 to learn about and discover wildlife on their doorstep. Join us for an exciting online event or try your hand at one of our numerous wildlife discovery or craft activities!  
Share your #WildAtHome experiences with us, follow us on Twitter, Facebook and Instagram or contact us via e-mail and let us know what you've been up to, show us your pictures or photos and tell us how you've been keeping wild.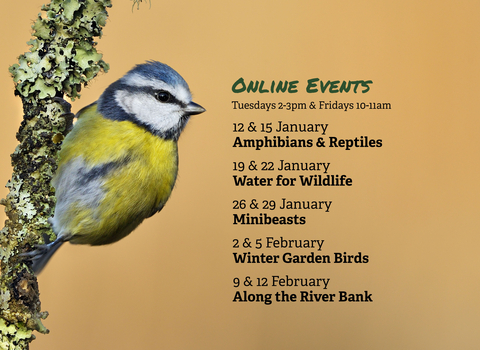 Go wild online
Join us for twice-weekly* online events with fascinating wildlife themes in the next couple of weeks - from minibeasts to garden birds - hosted by our knowledgeable wildlife experts. We offer lots of resources and downloads accompanying the weekly themes.
* Friday's talks are repeated sessions, no need to book on both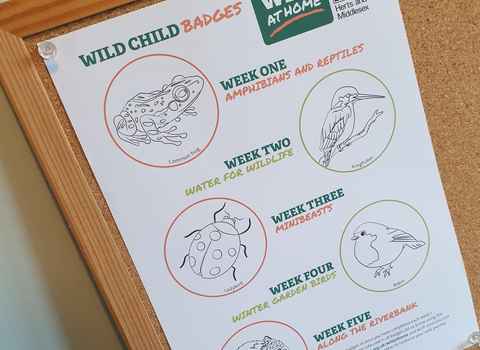 Become a Wild Child
Take part in every week's online event and colour in the weekly badge. At the end of the Wild At Home Winter Term, once all badges are completed, send us a photo of your sheet (webform open from early February) and receive your very own Wild Child Certificate and more inspiration to stay wild!
Week 1 - Amphibians and Reptiles
Join us this week for an exciting insight into the amazing world of amphibians and reptiles. You'll find all activities and downloads below.
Don't forget to sign up to the online event, taking place every Tuesday at 2pm and on Friday at 10am!
Downloads
Now that you've learned everything about our cold-blooded friends, can you find all the hidden words in this puzzle?
Become a frog yourself with our fun frog mask to cut out and colour in! How far can you hop?
Can you help our cold-blooded friends make a home in your garden? Here's an easy way to provide somewhere to spend the winter. Click on the image to download and make it yourself!
From tiny spawn to full-grown croaker - the life of a frog has many different stages. Can you name them all after joining our talk? 
More Resources and Downloads
Enjoying #WildAtHome?
If Wild at Home has (re)ignited your love for nature, please help support wildlife with a donation to the Trust. We are working hard across Hertfordshire and Middlesex to care for wild places so that wildlife and people can thrive together.