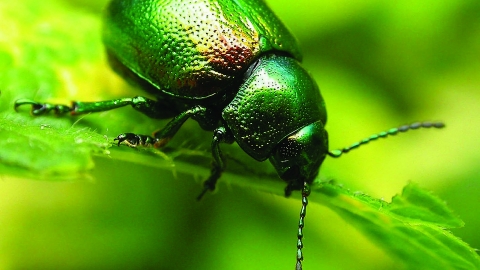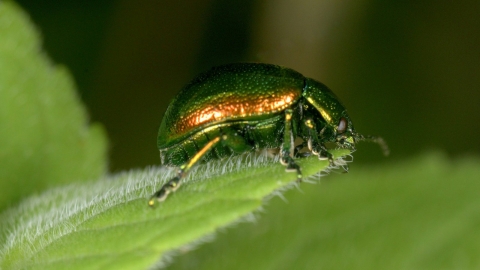 Tansy beetle
Scientific name:
Chrysolina graminis
This jewel like leaf beetle is an incredibly scarce species which is only found in wetland habitats.
Species information
Category
Statistics
Length: Up to 1cm

Conservation status
Nationally Scarce
UK BAP priority species
Protected in the UK under the Wildlife and Countryside Act, 1981

When to see
January to December
About
The tansy beetle was once widespread in the UK, but now has a severely restricted and declining distribution. The beetle is threatened due to reduction in suitable wetland habitat and food plants, including tansy tanacetum vulgare. Until 2014, the last remaining UK population was thought to be on the River Ouse in York. The tansy beetle was thought to be extinct in the East Anglia fens but was rediscovered at Woodwalton by entomologist Dr Peter Kirby in 2014.
How to identify
This is a difficult species to identify and is frequently confused with other leaf beetles. The pitting and lateral margin on the elytra are good indicators.
Distribution
UK distribution was thought to be restricted to the River Ouse in York but the species was rediscovered in the East Anglian Fens in 2014. The tansy beetle doesn't travel far through its lifecycle and despite the presence of wings it rarely flies.
Habitats
Did you know?
The Tansy beetle is named after its preferred food plant, Tansy, which is found commonly on riverbanks. However re-discovered populations in the fens are predominantly feeding on water mint and gypsywort.