The 'Go Wild at Hudnall' project aims to improve the emotional wellbeing of young people across Hertfordshire and the natural habitats for wildlife at the site through the delivery of nature-based activities and practical conservation tasks.
Hudnall Park is an outdoor education centre managed by YC Hertfordshire. Just a few  miles from Hemel Hempstead, the site is located within the Chilterns Area of Outstanding Natural Beauty and set in 31 hectares of countryside. Hudnall Park includes areas of grassland and woodland including three Local Wildlife Site designations.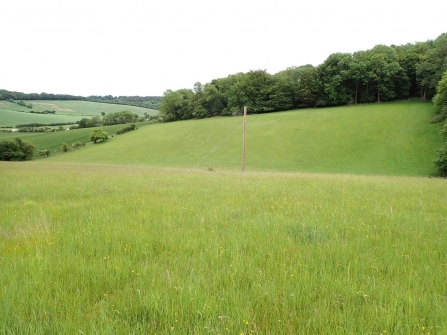 Pilot in 2019
During the pilot scheme in 2019, the Trust and YC Hertfordshire co-delivered a programme of Go Wild sessions for 96 young people. The Trust also carried out habitat surveys and prepared a comprehensive Landscape and Ecological Management Plan to enable improved conservation of habitats for wildlife at Hudnall Park.
The pilot activity programme included: 
15 pilot themed sessions (Wild Wellbeing and Wild About) enabling young people to explore the natural world using the five senses of sight, sound, touch, smell and taste, and taught them some useful mindfulness tools that they can use if they are unable to manage their emotions such as anxiety, anger, frustration and sadness, in a fun and engaging way; 
A six week Forest School programme offering child-led, inspiring and hands-on sessions where the children and young people were able to explore and take appropriate risks in the natural environment, enabling them to develop their self-confidence and self-esteem within a natural setting.
Plans for 2020 and beyond
With learning from the pilot programme, in 2020 YC Hertfordshire and the Trust secured further funding from the National Lottery Heritage Fund to deliver a new three-year programme of habitat improvements and engagement with young people and families at Hudnall Park. 
Between 2020 and 2023, the Trust will lead the delivery of a programme of conservation works. Key to the improvement and long term management of grassland habitats will be the introduction of sheep grazing, requiring the construction of over 1000m of new stock fencing. Grazing will reduce the dominance of vigorous grasses, allowing a greater variety of flowers to thrive. The greater diversity of plants will provide homes to more insects such as butterflies and moths.
Areas of ancient woodland habitat will be protected from damage by deer browsing with new deer exclosures, helping to re-establish a more diverse structure within the woodland which will benefit plants, invertebrates and breeding birds. The old pond will be restored and new paths, a shelter and a dipping platform created to support education and engagement activities. 
We will also be coordinating wildlife surveys and an ecological monitoring programme during the course of the project to help report on key species identified in the Landscape and Ecological Management Plan, including butterflies, grasshopper and bush crickets, moths, glow-worms, aquatic, amphibians & reptiles, small mammals, bats and birds.
An exciting programme of activities for young people will be led by YC Hertfordshire ranging from mindfulness and art in nature to building bat and bird boxes, as well as opportunities to volunteer to create and improve wildlife habitats as part of the conservation plan.
If you want to find out more about the activity programme and how to take part, please get in touch with the Go Wild team at YC Hertfordshire  - GoWild@hertfordshire.gov.uk or 01992 588229. Find more information here.