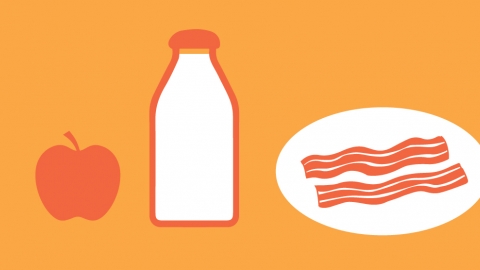 Making your lunch more sustainable is a brilliant way to help wildlife.
Eat green
Making your lunch more sustainable is a brilliant way to help wildlife. Yoghurt pots, wrappers, cling film, tinfoil… there are so many bits of packaging that we can do without.
Building a waste-free lunch is a fun way to care for the natural environment. Can you think of all the unnecessary packaging in your lunch? How might you get around using things like tinfoil or wrappers?
It's cheaper and healthier, too – buy bigger, like a large pot of yoghurt, and simply take what you need each day.
Here are some tips for building wild and waste-free lunches:
Reuse
Use a reusable container, like a lunchbox or Tupperware, to hold all your food.
Wrap your sandwiches in compostable greaseproof paper instead of foil and clingfilm or put them in a box to go in your container.
Buy big
Buy large packs of things like biscuits, yoghurt, dried fruit, crisps etc. and pack them in small containers – this could save you money, too!
Make your own
Make ahead - we all have those mornings where we just don't want to make up a lunch! Make the night before and your morning will be that much easier.
Better still, if you have leftovers from dinner, pack those for lunch to cut down on food waste and plastic. You could even cook extra to have for lunch the next day – just pop in the fridge to grab and go in the morning!
Plastic free foods
Pack fruit for snacking to cut down on wrappers and eat healthy – a win for you and for wildlife!
If you or your children like pre-packed lunch products, try making your own – pack crackers and sliced cheese in a little box.