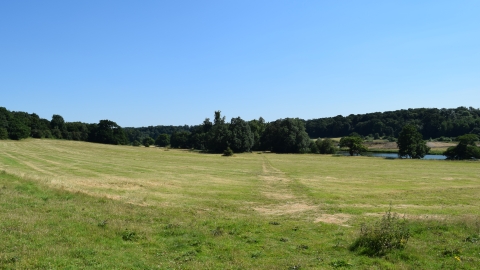 Restoration, Geology and Mineral Extraction Workshop
Location:
Panshanger Park,
B1000,
Hertford ,
SG14 2NA
Book
A fascinating talk and guided walk from Tarmac's staff and the Trust's People and Wildlife Officer...
About the event
This event will begin with a short presentation by Tarmac's Restoration Manager, Enrique Moran Montero and finish with a guided two mile walk from the Tarmac offices.
Tarmac began quarrying in Panshanger Park in the 1980s. With mineral extraction now finished, work is now firmly focused on progressive restoration, and large areas have been opened up as a country park and nature reserve.
Join us on this unique opportunity to discover the underlying geology, the processes involved in mineral extraction, and the subsequent work undertaken by Tarmac, in partnership with HMWT, to restore Panshanger Park and protect its status as one of Hertfordshire's top heritage and wildlife sites. 
Booking
Suggested donation
This event is free to attend. However, as a registered charity, any donations are greatly appreciated. We suggest a donation of £3 per person for members and £5 for non-members to cover our administration costs.
Suitable for
Adults

Panshanger Park
Panshanger Park is owned and managed by Tarmac who are working in partnership with Herts and Middlesex Wildlife Trust (HMWT) to open up the historic landscape to the public. The partnership is working in consultation with a range of stakeholders to highlight and protect the many wonderful attributes of the park - from the varied wildlife to the rich history of the grounds and the stunning landscape.