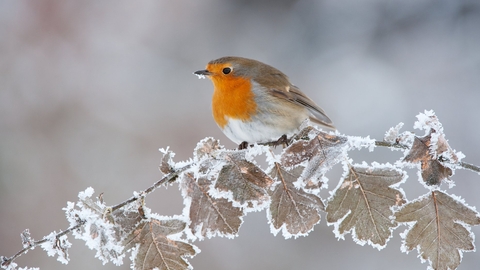 Learn to Sketch Robins - Online
Book
Grab a notepad, pencils and pens and join us online for a Christmassy afternoon learning how to sketch everyone's favourite Christmas bird, the robin!
About the event
Settle down with your sketch pad and pencils, and accompany us on an online tutorial on how to begin to observe and sketch robins. Local artist, Martin Gibbons, will show you how to begin field sketching everyone's favourite Christmas bird by going through the basics of shape, form, depth and adding detail.
By following Martin's instructions, you will have sketched a robin by the end of the session.
Aimed at adults, but suitable for children drawing alongside adults.
Presenter: Martin Gibbons, Volunteer, Herts and Middlesex Wildlife Trust
About Martin Gibbons:
Martin loves capturing light, landscape and wildlife in natural spaces. As a keen birder he has an eye for capturing fleeting moments quickly in the field. In this workshop you will learn techniques for drawing birds both in the field and from other sources.
Testimonials from the "Learn to Sketch Birds" online workshop in January:
"Thank you. I had a great time. I feel inspired and I learnt so much."
"It was excellent, very useful and fun, both about drawing birds and drawing other animals. I've drawn birds before but struggled by concentrating on their outlines rather than his structural method. Has changed my whole approach."
"Really lovely pace. Martin was a natural teacher and was clearly passionate about his subject.  Very relaxing!"
Technical Requirements:
The webinar platform (Demio) does not require a download and you can view the workshop from your laptop, tablet or mobile device (laptop is recommended for the easiest viewing experience).  You will not be visible at any time and can interact and ask questions through the typed chat function.
Recommended minimum download speed of 1mbps.
If you miss the event it will be made available afterwards to view as a replay to registered participants only.
Booking
Suggested donation
Suggested donation £5 per registration
Additional booking information
Suitable for adults and older children.

Only register once per device being used (can have multiple people watching!)
Suitable for
Children, Adults, Beginners