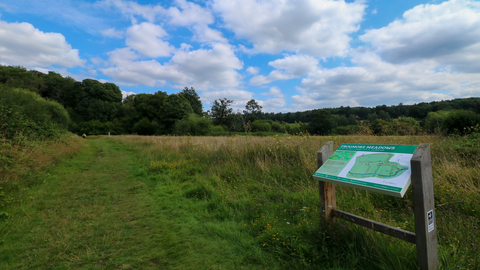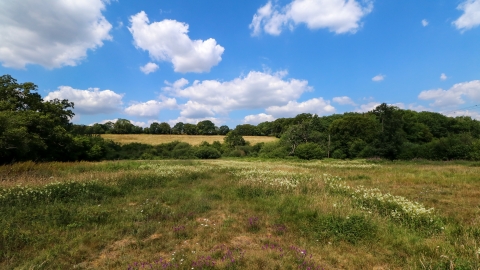 This marvellous wildflower meadow is a Site of Special Scientific Interest (SSSI) and has been extended in 2018 thanks to a generous legacy.
Know before you go
Entry fee
Free
Parking information
No official parking. Park in Sarratt Bottom or Latimer – follow the Chess Valley walk for around 0.5 miles.
Walking trails
Grass paths. The ground can be wet and marshy during the winter.
Access
Access to the reserve is from the Chess Valley Walk. Please note that there is no public access to the top meadow. 
Dogs
On a lead
No dogs in enclosures. In other areas dogs are permitted on leads.
When to visit
Opening times
Open at all times
Best time to visit
April to August
Environmental designation
Site of Special Scientific Interest (SSSI)
Nestled in the Chess Valley between Chenies and Latimer, Frogmore Meadows is a rare example of a traditionally managed wildflower meadow, alive with birdsong in spring and shining in all the colours of the rainbow in summer.
Frogmore Meadows Nature Reserve sits in a floodplain and the soils found there, when managed correctly, support an abundance of grasses, orchids and wildflowers. In summer, Frogmore Meadows is coloured in the white of meadowsweet, the yellow of lady's bedstraw, the purple of southern marsh as well as heath spotted orchid and many more beautiful wildflowers providing important food sources for bees and butterflies. Along the banks of the River Chess, a globally rare chalk stream, the highly endangered water vole has made its home. Nocturnal hunters like barn owls and several bat species are sweeping the floodplains in search of food at night.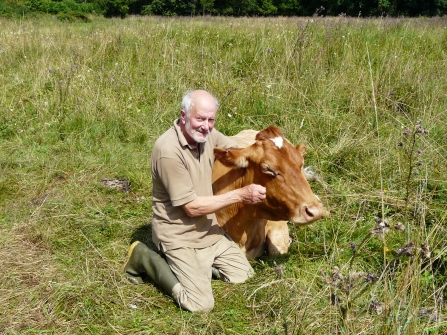 A lasting legacy
It is easy to understand why Gerald, the reserve's late volunteer warden, loved this place so much. He had been the warden at Frogmore Meadows for over 30 years and long before his death in 2015, he had made arrangements to ensure that future generations will be able to enjoy this reserve. Through his generous legacy, the Trust has been able to purchase land adjacent to Frogmore Meadows. The enlarged nature reserve now covers 25 acres – three times the size of the original site.
In his role as a Volunteer Warden, Gerald made a huge difference to the reserve, dedicating much of his time to its management by grazing his docile Guernsey cattle and cutting back scrub, which eventually led to the reserve gaining the favourable status of a Site of Special Scientific Interest (SSSI). He was always keen to share his knowledge and passion for the reserve which he frequently did on guided walks. In recognition of his dedication to the site, the Trust has named the original reserve 'Gerald's Meadow'.
Sit back, relax and pay a virtual visit to Frogmore Meadows in the video below.
Lowland meadows like Frogmore Meadows have suffered a huge decline over the last century. Similar meadows
are often 'improved' with fertilisers and re-seeded with more productive grasses or drained and used for arable farming. As a result, specialist meadow plants are being outcompeted by more dominant vegetation. To preserve Frogmore Meadows, the Trust uses traditional meadow management techniques to care for this precious habitat which involves traditional haymaking.
The grass is cut with a scythe and made into hay over several dry days in July, turning it daily to let it dry evenly. Once completely dry, the hay is compressed into tight bales with the use of a handmade hand baler. Further down the line, cattle will be brought on-site to graze. Conservation grazing is vital for grassland habitats to protect and ensure biodiversity. The animals' grazing removes further nutrients and diversifies the
height of the vegetation, creating microclimates. Their hooves lightly break up the ground, creating bare ground where seeds can germinate. Thanks to the Trust's continuous management, Frogmore Meadows is a diverse nature reserve supporting a huge variety of wildlife.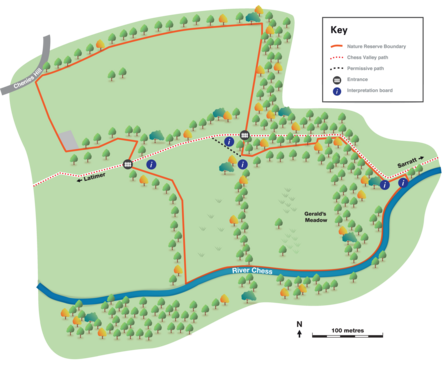 Directions
Site entrance: There is a signposted gated entrance 30m from the Chess Valley Walk across an area of private
land. Please stay on the path.
Access by public transport
Bus: 352 – The Boot PH, Sarratt (1.6 miles).
Rail: Chalfont and Latimer or Chorleywood (2.8 miles).
Your photos of Frogmore Meadows
If you have visited Frogmore Meadows with your camera, we'd love to see your images!
Here are a few photos from people who have visited Frogmore Meadows Nature Reserve:
Support our nature reserves
It costs on average £30 per month to care for each acre of our nature reserves.