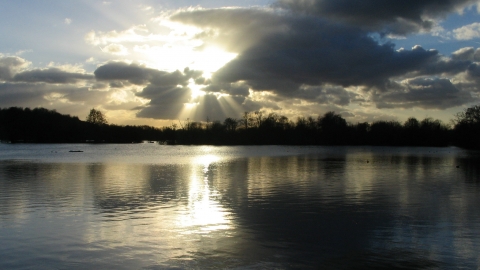 A large and attractive lake in the Colne Valley with nationally important numbers of wintering birds, including spectacular goldeneye and smew.
Know before you go
Parking information
Park in Aquadrome car park on Frogmore Lane.
Access
Good non-paved paths.
When to visit
Opening times
Open at all times. Cafe at nearby Bury Lake.
Best time to visit
April to July, November to February
Environmental designation
Local Nature Reserve (LNR)
About the reserve
On the edge of the big city, away from the hustle and bustle lies a green haven, a refuge for people to reconnect with nature and for wildlife to thrive. Stocker's Lake, owned by Affinity Water, is one of the oldest gravel pits in the Colne Valley. Much of the gravel extracted from here in the 1920s and 30s contributed to development in the city, particularly the old Wembley Stadium. Since extraction ceased, the lake was allowed to fill with water which, over time, has created the nature reserve you find today, rich in wildlife.
Nowadays, Stocker's Lake is a paradise for bird watchers throughout most of the year. Winter particularly will see an influx of wildfowl on the lake, as thousands of ducks migrate in from places such as Russia, Iceland and Scandinavia. Stocker's Lake is also home to the largest heronry in Hertfordshire. Herons are usually solitary birds but gather once a year in early spring to breed. You can see them stalking in the shallows of Stocker's Lake all year round, but from February, you can catch a rare glimpse of up to 20 nests in the trees on the lake's islands, alongside little egrets which are classified as a rare breeding bird in this country.
Coming from Frogmore Lane, take the circular walk around the lake. Visit one of the three hides around the lake or the heron viewpoint. What wildlife can you spot?
In winter, wigeon, gadwall, pochard, mallard and shoveler are aplenty, diving and dabbling for food. If the winter is particularly cold, you could also spot ducks like smew and goldeneye. Cetti's warblers can be heard blasting out their loud staccato melody from the reeds, but it is not often you can see them. What you can see is siskin
galore – in winter, the alder trees on the northeast side of the lake can often host flocks of around 50 of these charming finches. In spring, you can witness the stunning courtship dance of great crested grebes. 
Join us on a virtual tour around Stocker's Lake Nature Reserve:
Directions
Site entrance: Turn left out of the Aquadrome car park, pass Bury Lake and café on your right. Stocker's Lake is 0.2 miles on the right. There is
also pedestrian access via Uxbridge Road and Springwell Lane.
Disability access: Please bring your radar key, as there are several gates to pass around the lake that require one.
Access by road: Head north from Harefield on the Rickmansworth/ Harefield Road. After a mile turn left to stay on Harefield Road. After a mile turn left onto Frogmore Lane to access Aquadrome car park.
Access by public transport
Bus: R1, R2 – Tesco stop (0.5 miles).
Rail: Rickmansworth (1 mile).
Here are a few impressions from people who have visited Stocker's Lake Nature Reserve:
Support our nature reserves
It costs on average £30 per month to care for each acre of our nature reserves.