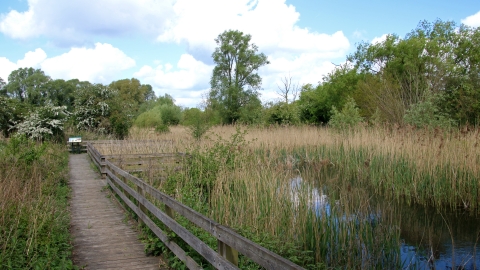 An open water reserve attracting a wide variety of bird species and other wildlife.
Know before you go
Parking information
No official parking. Unrestricted parking on Purwell Lane and Kingswood Avenue.
Access
Terrain around the reserve can be wet, and there are some steps. 
When to visit
Opening times
Open at all times
Best time to visit
April to July
About the reserve
The open water at this reserve attracts moorhen, mallard and, in winter, teal. The reedbed is home to reed warblers, as well as water rails. The wet ground condition encourages tussock sedge, yellow iris and water forget-me-not. In winter, buntings roost among the reeds, snipe feed in the meadow and siskins feed on alder seeds.
Wildlife to spot
Spring: Frog, grey heron, little egret, reed bunting, water rail.
Summer: Dragonfly, flag iris, ragged-robin, sedge warbler.
Autumn: Speckled wood, warblers such as blackcap, chiffchaff.
Winter: Redpoll, siskin, woodcock.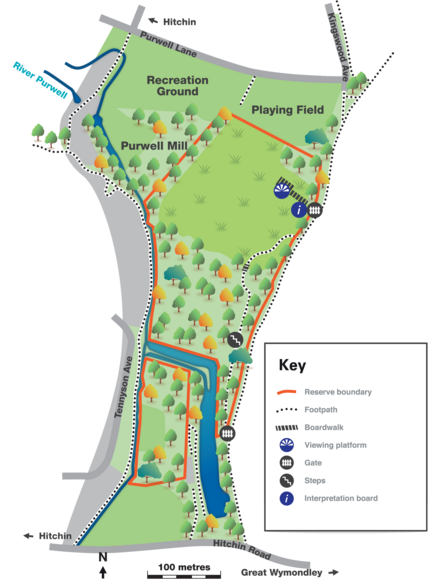 Directions
Site entrance: 0.1 miles down footpath from Kingswood Avenue.
Access by road: From A505 towards Hitchin, turn left onto Queenswood Drive after Letchworth Golf Club. Continue onto Kingswood Avenue and drive to the end where it meets Purwell Lane.
Access by public transport
Bus: 81 – Mill Close (0.2 miles).
Rail: Hitchin (1.2 miles).
Your photos of Purwell Ninesprings
If you have visited Purwell Ninesprings with your camera, we'd love to see your images!
Support our nature reserves
It costs on average £30 per month to care for each acre of our nature reserves.