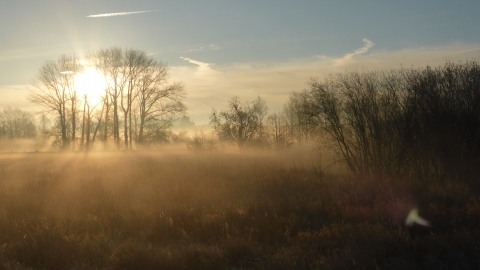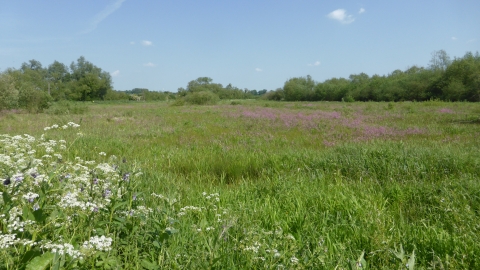 A reserve filled with birdsong south of Bishop's Stortford, and one of a string of wetlands flanking the Stort Navigation.
Location
Know before you go
Walking trails
From the Stort Navigation towpath head north from Spellbrook Lane East and cross the canal using the footbridge to continue along the towpath. Look for the Wildlife Trust sign which marks the reserve entrance. It is approximately ½ mile from Spellbrook Lock to the reserve entrance. Stort Navigation towpath follows the station to station riverside trail (Sawbridgeworth to Bishop's Stortford).
Access
Access via towpath and footbridge over Stort Navigation. Unsurfaced, uneven paths and steep slopes.
When to visit
Opening times
Open all the time
Best time to visit
April to June, July to September
Environmental designation
Site of Special Scientific Interest (SSSI)
About the Reserve
The morning sun's bright rays begin to clear the mist from the meadow, a sedge warbler is singing and a kestrel lazily drifts overhead – Thorley Wash waking up is a sight not to be missed. Formerly known as Thorley Flood Pound, Thorley Wash is a beautiful wetland reserve nestled between the River Stort navigation and the Stort backwater, the original route of the river, south of Bishop's Stortford near the village of Spellbrook. The site is home to a rich variety of wildflowers such as ragged-robin, marsh marigold, fen bedstraw, cuckoo flower and marsh orchids.
Thanks to a successful reintroduction programme in 2015, the highly endangered water vole flourishes here too. The best time to spot this mammal is in summer when populations are at their highest following the breeding season. Water voles are usually shy and shun human contact, but at Thorley Wash, you might just get lucky!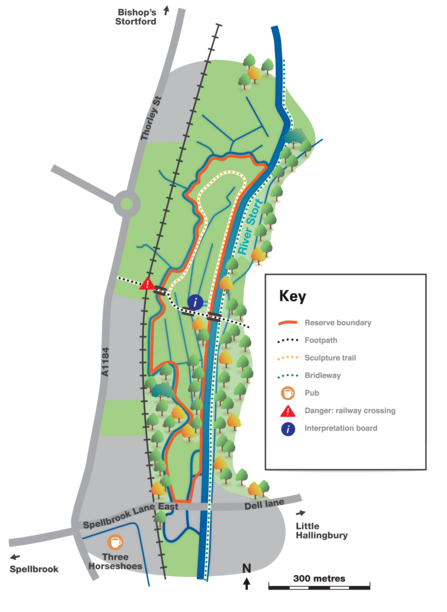 In spring, you will find this reserve alive with birdsong. Thorley Wash is now a paradise for birdwatchers with a large variety of birds such as whitethroat, blackcap and wren thriving in the scrubby margins. Snipe visit during the winter months and flocks of goldfinch, siskin and redpoll can be seen feeding on alder. Annual bird surveys have found grasshopper warbler breeding and seen the arrival of the Cetti's warbler to the Stort Valley.
Bring your binoculars and follow the Sculpture Trail to explore this reserve and enjoy panoramic views of the valley. Wander around at dusk and you might see a barn owl sweeping over the landscape in search of prey or listen out for the distinctive cuckoo's call during the day.
Spring and early summer are a great time to discover the golden yellow of marsh marigold, amethyst spikes of purple loosestrife and the bright pinks of ragged-robin. If you look closely at the white flower head of meadowsweet, you will see many types of insects attracted by its sweet scent. In early summer, you will find dragonflies and damselflies, such as the banded demoiselle and broad-bodied chaser, dart past you in search of food and a mate.
Fen habitats like this were once common across Britain but have been in decline for many years as a result of water abstraction, pollution and pressures from development, leading to 99% of fens being lost in the UK. Today, Thorley Wash is a great example of a fen habitat - being a real rarity in Hertfordshire, this complex fen habitat needs careful and continuous management through conservation grazing, reed cutting and ditch and scrub clearance.
Join us on a virtual tour of Thorley Wash Nature Reserve:
Directions
Site entrance: The reserve entrance is off of the Stort Navigation towpath. From Spellbrook Lane East, walk north along towpath and in 0.5 miles cross the white footbridge into the reserve.
Access by road: Head south on A1184 from Bishop's Stortford. At Spellbrook turn left into Spellbrook Lane East, parking at the pub on the right-hand side. Access to reserve over the level crossing.
Access by public transport
Bus: 508, 509, 510 – Spellbrook Lane (0.7 miles).
Rail: Sawbridgeworth station (2 miles).
Support our nature reserves
It costs on average £30 per month to care for each acre of our nature reserves.