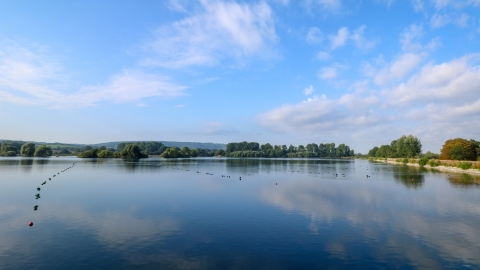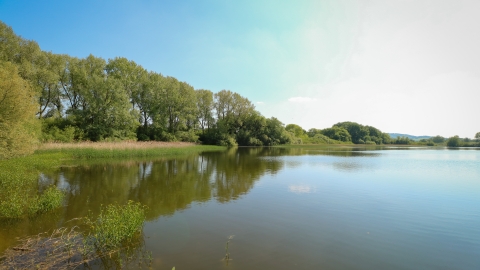 Originally built to serve the canal system, the reservoirs have become one of the best birdwatching spots in southern England
Know before you go
Entry fee
Tring Reservoirs Nature Reserve is free to visit. However, if you wish to support our work on this and other nature reserves, please consider making a donation or becoming a member of Herts & Middlesex Wildlife Trust.
Parking information
There is a free car park at Wilstone and a pay and display car park at Startop's End.
Access
Very steep steps from the car park to the top of the reservoir banks. It is often exposed to cold winds so wear warm clothing.
Swimming and boating is not permitted on the reservoirs.
When to visit
Opening times
Open at all times.
Best time to visit
April to July, November to February
About the reserve
Tring Reservoirs Nature Reserve comprises four individual reservoirs: Startop's End, Marsworth and Tringford reservoirs are all close together and Wilstone reservoir is a short distance to the west.
The reservoirs are home to a variety of wildlife and their reedbeds, wet woodland and open water habitats are a natural stronghold for birds. During colder months, you can find a large number of wintering wildfowl across all four reservoirs, including tufted duck, pochard, teal, gadwall, wigeon and shoveler with occasional goldeneye, goosander and smew if it is very cold.
Wilstone Reservoir boasts the rare mudwort plant that can be spotted on the mudflats during autumn months as the waters recede. The site attracts breeding common terns which use rafts the Trust has installed and breeding oystercatchers have been recorded here.
Between December and February, Marsworth Reservoir is a great place to see overwintering bitterns, as this site has a fantastic reedbed that retains its water to allow the birds to feed throughout the season.
There is a heronry on the bank of Wilstone Reservoir and if you take binoculars you should be able to catch a glimpse of these usually solitary birds in large numbers.
If you visit the reservoirs during late spring then you may spot a hobby hunting over the water. The hobby is an African migrant bird that is best seen on warm summer days at the end of May when there is plenty of prey around. You can also occasionally hear the call of the cuckoo especially from the back of the reedbed at Wilstone or Marsworth where you should also be able to hear and see reed warblers.
Tring Reservoirs are a Site of Special Scientific Interest (SSSI) for a number of reasons including their situation on the lower chalk at the foot of the Chilterns escarpment resulting in diverse communities of plants and animals. Additionally, nationally-important numbers of shoveler are present during winter, together with other wildfowl. Large numbers of sedge and reed warblers breed here and Tring Reservoirs are a fantastic place to spot passage waders too.
Seasonal Highlights
Spring: Osprey, sand martin, swift, yellow wagtail.
Summer: Common tern, great crested grebe, hobby, reed and sedge warbler.
Autumn: Golden plover, lapwing.
Winter: Bittern, jack snipe, pochard, shoveler, teal.
Habitat
Environmental designation
Site of Special Scientific Interest (SSSI)
Directions
Site entrance: There are different entrances for the four reservoirs
– follow directions listed.
Access by road: From Tring, take Tringford Road towards Long Marston. At the mini roundabout with B489, turn left for the car park to Wilstone Reservoir (0.9 miles) or turn right for the Startop's End car park for access to Startop's End, Marsworth and Tringford Reservoir (0.3 miles).
Access by public transport
Bus: 164 – Crossroads, Tringford Road. (0.9 miles to Wilstone and 0.4 miles to Startop's).
Rail: Tring (3.8 miles to Wilstone and 2.7 miles to Startop's).
Support our nature reserves
It costs on average £30 per month to care for each acre of our nature reserves.