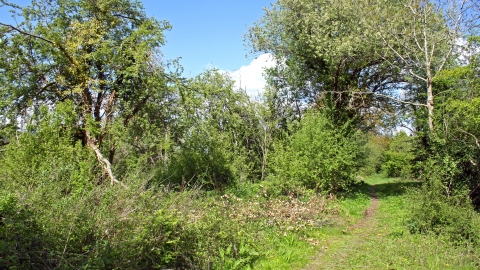 A small urban nature reserve along a former railway embankment, bordered by the ancient Shires ditch and Frays River.
Know before you go
Parking information
No official parking. Park in nearby residential roads where restrictions allow.
Walking trails
Closeby: Grand Union Canal towpath; LOOP Walk Section 12; Colne Valley Park;' Colne Valley Trail
Access
Path rutted with steps, not suitable for wheelchairs.
When to visit
Opening times
Open at all times
Best time to visit
April to August
About the reserve
Uxbridge Alderglade is an area of wet woodland and marshland along an old disused railway
embankment. The trees are dominated by mature crack willow, hawthorn scrub and alder.
Along the railway, bank species such as birds-foot trefoil and small toadflax can be found.
Mammals such as stoats, weasels, moles and foxes have been recorded on the reserve as well as several species of bat, including the uncommon Brandt's bat. The alder trees support flocks of siskins as winter visitors and both kestrel and sparrowhawk are frequently seen.
Visit the reserve in spring to enjoy a chorus of birds such as chiffchaff, blackcap and song
thrush. The sheltered central track is hot in the summer and a good place to see butterflies such as speckled wood and orange tip. If you are lucky you may see signs of the elusive water vole.
Seasonal Highlights
Spring: Blackcap, brimstone, chiffchaff, comma, orange tip, red admiral.
Summer: Kingfisher, sparrowhawk, water vole.
Autumn/ Winter: Coal tit, great tit, great spotted woodpecker, redwing.
Directions
Site entrance: Signposted entrance at the end of Braybourne Close.
Access by road: From the M40 towards London take A4020 towards Uxbridge. Continue for 1.5 miles. At roundabout take first exit to B467 Harefield Road. Turn left onto High Street, this is a no through road – turn right into Braybourne Close.
Access by public transport
Bus: Alight at Uxbridge Station (0.6 miles).
Rail: Uxbridge Station (0.6 miles).
Support our nature reserves
It costs on average £30 per month to care for each acre of our nature reserves.