Local community tastes the fruit of Herts and Middlesex Wildlife Trust's labour
Herts and Middlesex Wildlife Trust held its annual Apple Day at Tewin Orchard to celebrate all things apple!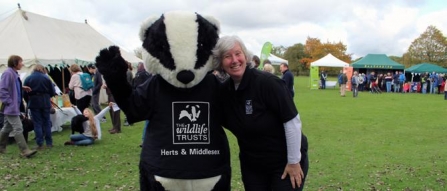 Apple Day, which takes place across the UK during the month of October, is a celebration of orchards and also a demonstration of the variety we are in danger of losing; not simply in apples, but in the richness and diversity of landscape, ecology and culture.
Tewin Orchard is one of the Trust's nature reserves and supports a wide variety of wildlife. It has locally distinct fruit varieties and a hide which is perfect for watching badgers and other mammals from. Tewin Apple Day, which took on Sunday 8th October, gave visitors the opportunity to take a guided tour of the orchard and find out more about its nature and history.
Families were welcome, with children's activities including making bird feeders from apples, mask colouring and learning how to estimate the age of a tree. Attendees enjoyed fresh apple produce, including juice and jams, as well as tea, coffee and homemade cake.
Lesley Davies, Herts and Middlesex Wildlife Trust's Chief Executive, said:
"Our annual Apple Day is always a highlight in the Trust's calendar. It's brilliant to see so many people get excited about our local wildlife and fruit varieties.
"We'd like to thank our wonderful volunteers especially our volunteer wardens Anna and Michael Clark, County Councillor Ken Crofton for his generous donation to the day, and everyone who helped pick this year's bumper harvest!"
County Councillor Ken Crofton said:
"I am pleased to be able to support Herts and Middlesex Wildlife Trust, who through this initiative are making Apple Day an opportunity to connect our community with nature."