Panshanger Park welcomes new People and Wildlife Officer
Herts and Middlesex Wildlife Trust, in partnership with Tarmac, has appointed Murray Brown to help the local community get the most out of Panshanger Park's special landscape and its wildlife.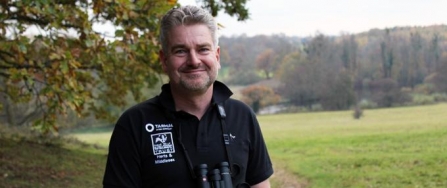 Murray's role will see him further develop Panshanger Park as a valued place where people are able to experience and enjoy the historic landscape, its habitats and the wildlife they support. There will be a particular focus on volunteers, facilitating participation in the management and interpretation of the Park.
Murray will develop and monitor detailed management plans around Panshanger's key habitats, including the lakes, the River Mimram, and grassland, to ensure that the park continues to be a haven for wildlife, as well as a calm and beautiful place for people to visit. A programme of events will be developed to highlight the park's natural, landscape and cultural heritage, and an ecological monitoring plan will be put in place.
Murray Brown says: "I'm delighted to be Panshanger Park's new People and Wildlife Officer. Tarmac, in partnership with the Trust, has created a real haven for wildlife here, as well as a fantastic space for people to visit and enjoy all the park has to offer, from the historic landscape to the wild space.
"There's so much potential to develop the park even further and I can't wait to get stuck in with the help of passionate local volunteers."
Michael Charlton, Tarmac's Restoration Manager at Panshanger Park, said: "I am thrilled to welcome Murray to the team at Panshanger Park. The role is very important to Tarmac in helping us engage with the local community and providing many opportunities for people to get involved with our work. I am sure Murray's knowledge and enthusiasm will be a great asset to the park and the team here are looking forward to working with him over the coming months.