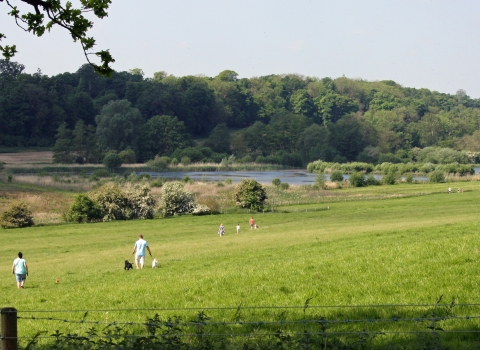 Panshanger Park
Panshanger Park is a 1,000 acre site situated between Welwyn Garden City and Hertford. The Trust is working with the park's owners Tarmac and with Herts County Council to manage the park for both people and wildlife.
COVID-19
Panshanger Park remains open. If you do intend to visit a reserve please make sure you do it safely and adhere to Government advice and physical distancing regulations. For more information, please visit tarmac.com/panshanger-park/news. 
Notice
Please note that a parking charge has now been introduced for parking at Thieves Lane car park. This parking charge is set by Tarmac and their management company Maydencroft, and has been introduced to help ensure the long term financial sustainability of the park with income reinvested in the park's management. For more information about the car park, please contact Maydencroft- panshangerpark@maydencroft.co.uk
A brief history
Owned by the Cowper family from the late 17th century to the early 20th century, the Panshanger Estate was shaped around the Mimram Valley following advice from Humphry Repton and Lancelot 'Capability' Brown. Panshanger Park is registered as a Grade: II* park and garden by Historic England. 
More recently since the 1980s, the park has been owned by Tarmac and parts have been quarried for sand and gravel. Much of the site has now been restored to arable farming and a range of valuable wildlife habitats including a new section of chalk river and a number of lakes. The park opened to the public in 2014 and comprises a country park and nature reserve. More of the site will be opened up in a series of carefully managed phases as the remaining extraction processes on site come to an end.
Wildlife of Panshanger Park
Panshanger Park is made up of a mosaic of habitats including woodlands, wetlands, grasslands and reedbeds making it a fantastic refuge for a huge variety of wildlife. During the spring and summer months, a multitude of wildflowers, butterflies, dragonflies and birds brings the park to life. Even in the autumn and winter the park is far from quiet. Large numbers of ducks migrate into the park from the further north to spend the winter on the lakes meaning that Panshanger is a great place to visit at any time of year.
Walking in Panshanger Park
There are lots of trails to enjoy at Panshanger Park that take in the best of the park - from the Great Oak to the Dragonfly Trail and many more besides. 
Finding Panshanger Park
The entrance to Panshanger Park is via the Thieves Lane car park located just off the A414 near Hertford. The nearest postcode is SG14 2WN. Please note that the entrance to the car park is on your left immediately after turning off the A414 at the roundabout onto Thieves Lane. Look out for the white entrance signs!
Panshanger Park gallery
Events at Panshanger Park