Restoring the Majesty of the Meads
This project aims to establish King's Meads Nature Reserve as a haven for wildlife as well as the local community. 
Located between Hertford and Ware, the nature reserve is one of the largest floodplain grasslands in Hertfordshire and home to a large variety of wildlife, including hundreds of wildflower, more than 100 bird and 19 dragonfly species. It is a vital link in the chain of interconnected wetlands of the Lee Valley and one of the best sites in the county to see water voles and the rare water violet.
The Trust was granted financial support from the National Lottery Heritage Fund as well as from the Thames Water's Community Investment Fund and the Environment Agency.
The Trust is also working with GlaxoSmithKline, who have kindly given land to the Trust as an in-kind contribution to the project, and other landowners to restore this 235-acre site.
Local residents, schools and community organisations will play a key role in shaping the future of this reserve to make it a vital part of the local community.  
This project offers a unique opportunity to deliver the best for the site by increasing its value for wildlife and the community.

Herts and Middlesex Wildlife Trust
A dedicated Project Officer will work together with local volunteers to restore the various habitats, open up access to the public and engage the community with its local natural heritage, through events and volunteering opportunities.  
The project is estimated to take around three years to complete and has begun in autumn 2019.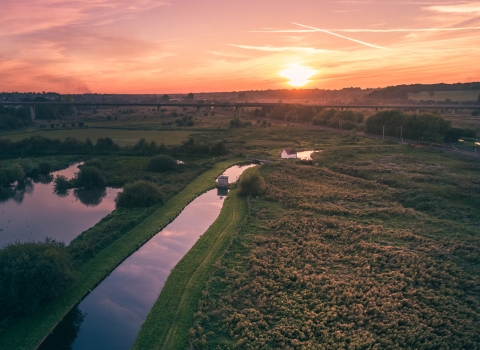 King's Meads Nature Reserve
One of the largest surviving floodplain grasslands in Hertfordshire, this King's Meads Nature Reserve is valued by the local community for its natural heritage and wildlife. It is home to hundreds of species of wildflower and more than 100 bird species.
Find out more