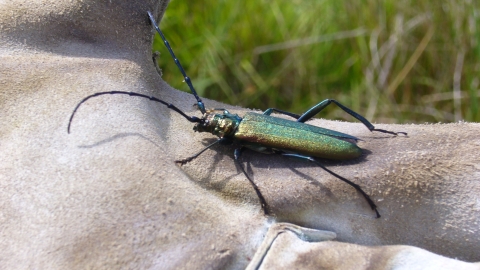 Musk beetle
Scientific name:
Aromia moschata
The metallic-green Musk beetle lives up to its name: it releases a musky-smelling secretion when it defends itself. It is a longhorn beetle, so has lengthy antennae. Look for it near wetlands in summer.
Species information
Category
Statistics
Length: up to 3.4cm
Conservation status
Common.
When to see
July to August
About
The Musk beetle is a long, narrow-bodied longhorn beetle that has very long antennae. The larvae live in the wood of willow trees (particularly pollards), taking up to three years to develop. The adults can be found on flowers and tree trunks near to wetlands during the summer. The adults emit a musky secretion, hence the common name.
How to identify
The large Musk beetle is metallic blue-green in colour and has long antennae.
Distribution
Widespread but scarce through England, Wales and southern Scotland.
Habitats
Did you know?
The Musk beetle is most common in areas where there are lots of willow trees, such as the Fens and Broads in East Anglia, or the Somerset Levels.
How people can help
The Wildlife Trusts manage many nature reserves for the benefit of the wildlife they support. You can help by supporting your local Trust and becoming a member; you'll find out about exciting wildlife news, events on your doorstep and volunteering opportunities, and will be helping local wildlife along the way.