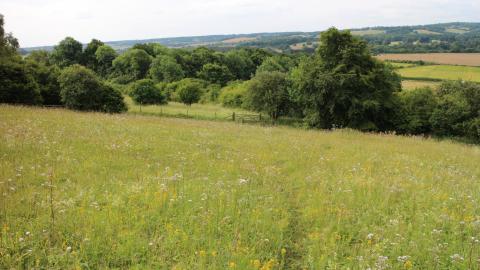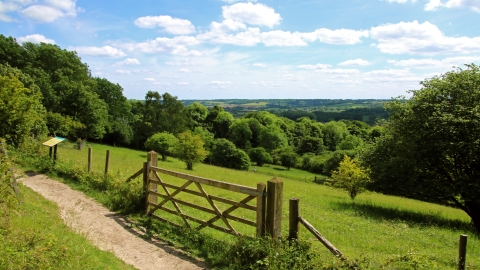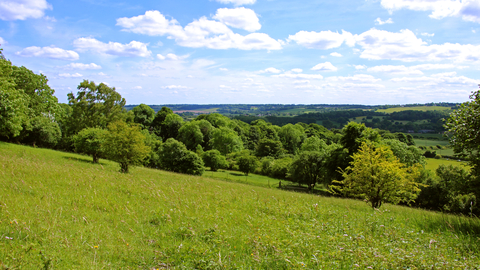 A beautiful meadow alive with wildflowers and butterflies in the summer.
Know before you go
Entry fee
Free
Parking information
No official parking. Limited parking in layby of Northfield Road. The reserve is 0.2 miles along the track just before the layby (there is a public footpath arrow opposite the track). Additional parking is at the National Trust's Pitstone carpark.
Grazing animals
Grazing sheep from October - March.
Walking trails
The Ridgeway National Trail links the two areas of the reserve.
Access
The reserve has some steep slopes and muddy footpaths and isn't suitable for wheelchairs
Dogs
On a lead
No dogs in enclosures. In other areas dogs are permitted on leads.
When to visit
Opening times
Open at all times
Best time to visit
April to August
Environmental designation
Site of Special Scientific Interest (SSSI)
About the reserve
In Hertfordshire's west lies a gem bursting with wildlife, history and beauty – and its very own connections to royalty. The chalk grassland found at Aldbury Nowers, sitting on the Chiltern escarpment, is one of the finest remaining areas of this habitat in the county and as such, one of the best places to discover butterflies and solitary bees.
A part of Aldbury Nowers is known as "Duchie's Piece" – the eponymous Duchie being the nickname of the original owner's wife; Ethel Amy Farquar was nicknamed Duchie because "she dressed like a Duchess". 'Duchie' used to love to sit in the grass of Aldbury Nowers, count the wildflowers and pick wild strawberries along the woodland edge with her grandchildren, Frankie and Mark. The same grandchildren were asked to suggest a name when the Trust officially opened the site in 1991 and they chose to name it after their grandmother.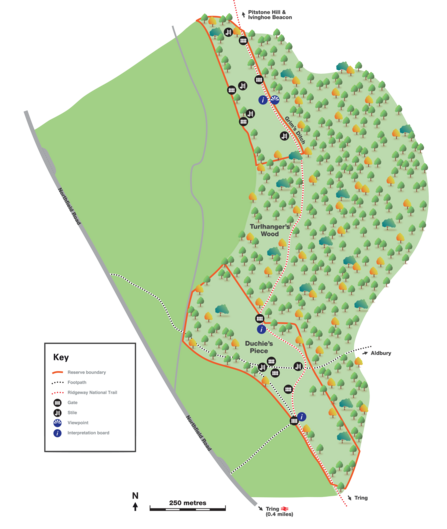 When Aldbury Nowers was opened in 1991 the wider reserve was presented to the Queen Mother to celebrate her 90th birthday and named "Queen Elizabeth the Queen Mother's Nature Reserve". The Queen Mother formally opened the newly-named reserve and following the ceremony she enjoyed a picnic under the trees alongside Trust staff members and volunteers.
Take a moment and join us on a virtual tour around Aldbury Nowers Nature Reserve:
The south-facing chalk grassland slopes at Aldbury Nowers are one of the county's highlights during the spring and summer months with a combination of wildflowers, butterflies and a huge variety of other insects. Head to the reserve on a warm March day to see early butterflies such as brimstone and peacock. Visit slightly later, in April, to see the first orange tips emerge alongside the bright yellow tube-like flowers of the early spring flower, cowslip.
A wander through the grassland enclosures during July and August should almost guarantee a sighting of the dark green fritillary – lookout for them taking the nectar from flowers such as valerian or thistles. Silver-washed fritillary can also be seen in the surrounding woodland glades.  Chalk hill blues can be found fluttering low over the upper slopes together with common blue and brown argus, especially where there is marjoram for them to nectar on.
Directions
Site entrance: The reserve is in two parts; accessible from the Ridgeway National Trail. The southern area can be accessed from Northfield Road while the northern area is a short walk from here and can also be accessed by walking from Pitstone Hill.
Access by road: From Tring town centre take Station Road to Tring Station and Aldbury. Just beyond the railway bridge turn left onto Northfield Road.
Access by public transport
Bus: 387, Tring Station (0.5 miles).
Rail: Tring (0.5 miles).
Your photos of Aldbury Nowers
If you have visited Aldbury Nowers with your camera, we'd love to see your images!
Here are a few photos from people who have visited Aldbury Nowers Nature Reserve:
Support our nature reserves
It costs on average £30 per month to care for each acre of our nature reserves.