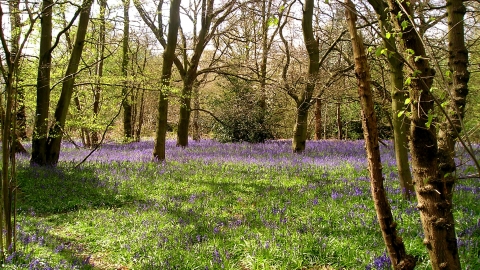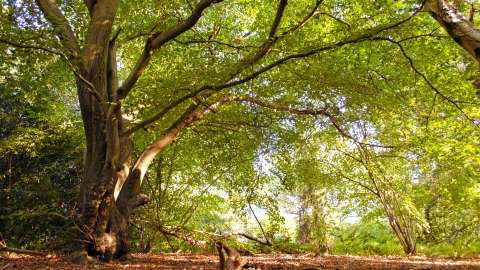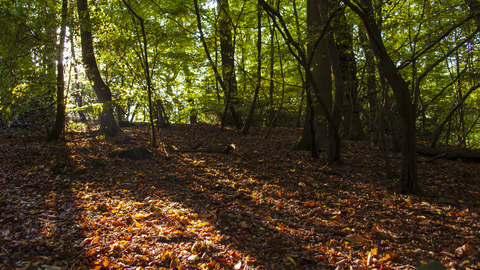 Possibly the most varied piece of woodland in Middlesex, with fantastic wildflower displays in spring.
Know before you go
Parking information
No official parking. There is limited parking near the allotments on Hill End Road.
Access
Uneven woodland path.
When to visit
Opening times
Open at all times
Best time to visit
April to July
Environmental designation
Site of Special Scientific Interest (SSSI)
About the reserve
Just behind Harefield Hospital, on the edge of a bustling city, a tranquil refuge is tucked away. Old Park Wood is a hidden gem and rich with wildlife. This nature reserve is a joy to visit throughout the year, however, it offers a particularly stunning sight in spring, when the woodland floor is transformed into a sea of colours.
Spectacular blooms of bluebells, yellow archangel, lesser celandine, wood anemone and coralroot bittercress, the latter being a rarity in both the UK and Hertfordshire, create a rainbow of purple, yellow, white and more.
Old Park Wood is an ancient woodland, thought to have been continuously wooded since Saxon times. At the boundary of the woods, you may see a shallow ditch, flanked by a series of large stumps - the remnants of hornbeams whose stems would have been cut and 'layered' down to form a natural fence to hold livestock such as pigs, fattened up on acorns in a system known as pannage. Ancient woodlands are those known to have been
present by 1650 and are an irreplaceable wild link to our past, hosting a unique biodiversity.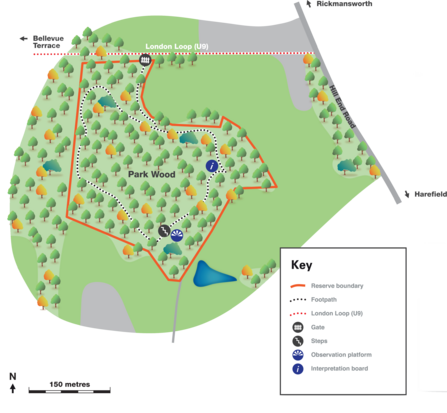 The wood is the ideal habitat for tawny owls which are perfectly adapted to these dense woodlands, having short wings for great manoeuvrability and mottled reddish-brown plumage. It might be a challenge to spot them, their camouflage perfectly blending in with the trees, but listen out for the distinctive "twit-twoo" call. This call is actually a combination of a pair of owls, the female calling "twit" and the male replying with "twoo". You might also hear the rhythmic drumming of a male great spotted woodpecker, marking his territory and attempting to attract a mate.
Directions
Site entrance:There are public footpaths to the site's entrance from
Hill End Road and Bellevue Terrace.
Access by road: From Harefield High Street head north onto Rickmansworth Road. After 0.1 miles turn left onto Hill End Road. The reserve is around 0.2 miles, past Harefield Hospital, along a public footpath on the left.
Access by public transport
Bus: R1, R2, U9 – Harefield Hospital (0.5 miles).
Rail: Northwood Rail Station (3.5 miles).
Your photos of Old Park Wood
If you have visited Old Park Wood with your camera, we'd love to see your images!
Support our nature reserves
It costs on average £30 per month to care for each acre of our nature reserves.