Grebe House Wildlife Garden
Set in the beautiful Verulamium Park in St Albans, Grebe House Wildlife Garden is a haven for local wildlife next to the Trust's head office. The garden showcases many features of wildlife gardening that you can do in your own garden - from ponds to pollinator planting, there's lots to see!
Finding Grebe House Wildlife Garden
Grebe House
St Michael's Street
St Albans
AL3 4SW
The wildlife garden is open 10am-4pm, Monday to Friday and is free to enter (except on Wednesdays morning during volunteer works).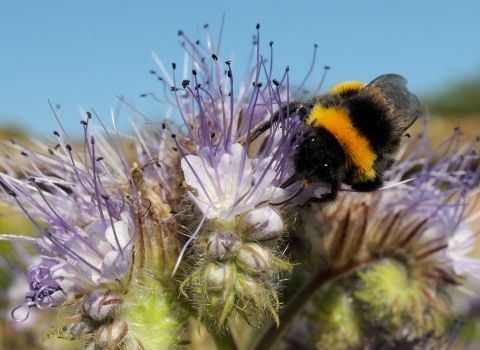 Make your garden a haven for wildlife
Gardens are increasingly important spaces for wildlife as habitats in the wider countryside shrink and fragment, and climate change takes its toll. There are around 16 million gardens in the UK; the way they are managed can make a big difference to wildlife. Although each garden on its own may be small, together they form a patchwork linking green spaces in our towns with nature reserves and the wider countryside. Species like hedgehogs, sparrows and song thrushes are all declining, but if we manage our gardens sympathetically for wildlife these creatures and many more will feel the benefits.
Find out more